The list below contains an overview of dance workshops and events with Nancy Stark Smith. To find more information about a specific event, please click on the buttons below.
If you have difficulty finding information about any of these workshops or if you need further information, please email us.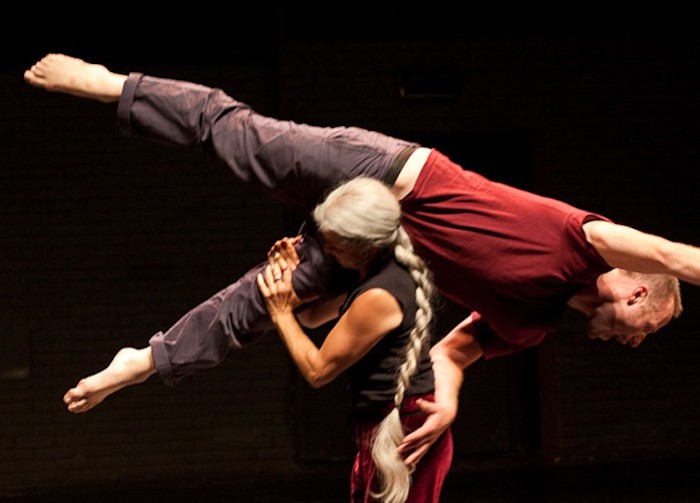 Nancy and Charlie Morrissey, Moscow, 2010
photo © Ilya Domanov
Nancy will be taking a Sabbatical leave from July 2018—February 2019.
Hope to see you in January 2020!
JANUARY WORKSHOP  (

not

happening in 2019)
3-week training with Nancy Stark Smith, Mike Vargas, and others
WHERE Earthdance, Plainfield, Massachusetts USA
CONTACT email
December 1–16, 2018
GLIMPSE 4
Community Underscore
Dec. 1
WHERE University of Utah, Salt Lake City, Utah USA
Glimpse 4 Performances
Fri. & Sat., Dec. 14–15
WHERE University of Utah, Salt Lake City, Utah USA
Final Community Underscore
Sun., Dec. 16
WHERE (local studio), Salt Lake City, Utah USA
CONTACT Leah Nelson DelPorto email, Brandin Steffensen email
June 23, 2018
10 am–2 pm (EST, UTC-4:00)
GLOBAL UNDERSCORE (GUS) 2018
General GUS 2018 info:
www.globalunderscore.com
GUS facebook page
WHERE all over the globe! GUS Sites
CONTACT Nancy Hughes, Patrick Crowley email
GUS in Western Mass. 2018 with Nancy Stark Smith
WHERE Windhorse Hill, Deerfield, Massachusetts, USA
CONTACT Patrick Crowley, email

May 20–27, 2018
MOVING'S VIEW: EVOLUTIONARY 2018 
(a few spaces left!)
a week-long workshop with Susan Schell, Karen Nelson, and Nancy Stark Smith
WHERE Earthdance, Plainfield, MA USA
CONTACT Earthdance, email
April 24–28, 2018
GESTES DU CONTACT IMPROVISATION (EXPOSITION)
classes, jams, talks
WHERE Musee de la Danse, Rennes, France
CONTACT email
February 17, 2018
WINTER SEASONAL UNDERSCORE + LONG DANCE SHOWING
Underscore facilitated by Long Dancers with Nancy Stark Smith
Talk-through: 10:00 am. Practice: 11:00 am–2:30 pm. $15-25.
(Talk-through required unless you have had one.)
Long Dance showing: 4:30–6:30 pm. Donations appreciated.
WHERE Dragon's Egg, Ledyard, CT USA map
CONTACT Patrick Crowley, reserve a spot
January 7 + 14 + 21, 2018
JANUARY WORKSHOP 2018 Public Events
Public Events with January Workshop participants
Earthdance dance music jam with Mike Vargas
Jan. 7, 8:00 pm
WHERE Earthdance Plainfield, Massachusetts USA
CONTACT email
Earthdance CI class/jam
Jan. 14, 3:30 pm
WHERE Earthdance Plainfield, Massachusetts USA
CONTACT email | info
January Workshop Community Jam with Nancy & JW participants
Jan. 21, 1:30–4:30 pm
WHERE Studio4, SCDT, Northampton, MA, USA
CONTACT email
January 7–February 21, 2018
JANUARY WORKSHOP 2018
January 7– 26, 2018
3-week "continuing" workshop with Nancy, plus Mike Vargas and other guests
+ LONG DANCE 2018
January 30–February 21, 2018
a 3-week extension for continuing group practice and self-directed research
only open to January Workshop 2018 participants
WHERE  Earthdance, Plainfield, MA USA and Dragon's Egg, Ledyard, CT USA
CONTACT  email
December 1–6, 2017
BELHAVEN UNIVERSITY RESIDENCY
classes, ensemble intensive, & talks with Nancy
Community Underscore: talk & practice, Saturday, December 2, 10:00 am–5:30 pm. Reception after.
WHERE   Belhaven University, Jackson MS USA
CONTACT  Residency: Krista Bower, email
Community Underscore: Erin Rockwell, email

September 23, 2017
NORTHAMPTON FALL UNDERSCORE
Seasonal Underscore facilitated by Nancy | talk-through by Patrick Crowley
11:30 am Talk-through. 1-4:30 pm Practice
WHERE Karuna Yoga Studio, Northampton, MA USA
CONTACT Patrick Crowley, email
July 15–August 6, 2017
BATES DANCE FESTIVAL
3 weeks of classes & performances with Nancy, Mike, and many others
WHERE Bates College, Lewiston, Maine USA
CONTACT email
June 19–24, 2017
CONTACT IMPROVISATION AND THE UNDERSCORE
Embodiment and Collaboration
6 day workshop with Nancy Stark Smith
WHERE c/o Notafe, Viljandi, Estonia
CONTACT Eve Noormets, email
June 7-14, 2017
STATES OF GRACE:
CI, Contemplation, and Composition
8 day workshop with Nancy Stark Smith
WHERE Arlequi retreat center, Banyoles, Spain
CONTACT Anna Borreda, email
May 4-6, 2017
May 7 Underscore
EXPRESS TRAIN TO STATES OF GRACE:
CI, Embodiment, and Collaboration
3 day workshop + Community Underscore
with Nancy Stark Smith
WHERE Hamlin Park, Chicago, IL USA
CONTACT Jessica Marasa, email
March 12, 2017
NORTHAMPTON WINTER UNDERSCORE
Seasonal Underscore facilitated by Nancy | talk-through by Patrick Crowley
11:45 am Talk-through. 1-4:30 pm Practice
WHERE Karuna Yoga Studio, Northampton, MA USA
CONTACT email
Feb – May, 2017
UNDERSCORE +/- WORKGROUP
Weekly practice (invited)
WHERE East Street Studios, Hadley, MA USA
January 8 + 15 + 25, 2017
JANUARY WORKSHOP 2017 Public Events
Public Events with January Workshop participants
Earthdance dance music jam with Mike Vargas | Jan. 8, 8:00 pm
WHERE Earthdance Plainfield, Massachusetts USA
CONTACT januaryworkshop@nancystarksmith.com
Earthdance CI class/jam | Jan. 15, 3:30 pm
WHERE Earthdance Plainfield, Massachusetts USA
CONTACT januaryworkshop@nancystarksmith.com
January Workshop Community Jam with Nancy & JW participants |
Jan. 22, 1:30–4:30 pm
WHERE Studio4, SCDT, Northampton, MA, USA
CONTACT januaryworkshop@nancystarksmith.com
January 8–27, 2017
JANUARY WORKSHOP 2017
3-week training with Nancy Stark Smith, Mike Vargas, and others
WHERE Earthdance Plainfield, Massachusetts USA
CONTACT januaryworkshop@nancystarksmith.com