JANUARY WORKSHOP 2018
+ LONG DANCE 2018
a "continuing"* workshop and extension
with NANCY STARK SMITH
plus Mike Vargas and other guests
* "continuing" = for people who have attended other intensives with NSS
There is a January Workshop ONLY option: there are still 2 spots available for this!
And 1 spot still available for the whole JW/LD option!
January Workshop: January 7–26, 2018
Earthdance retreat center (and environs), western Massachusetts, USA
Long Dance: January 30–February 21, 2018
Dragon's Egg Studio, Ledyard, Connecticut, USA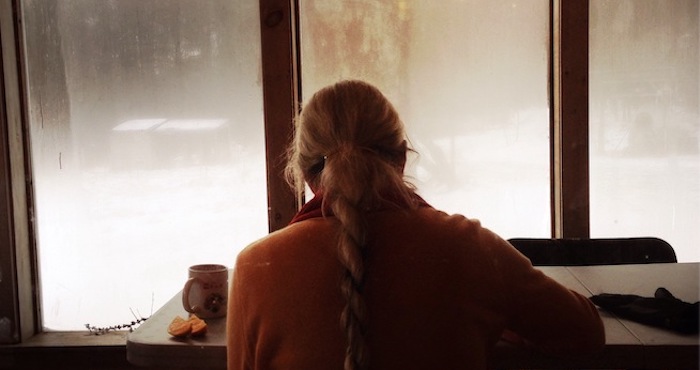 Nancy on sunporch, January Workshop 2016, Earthdance
photo © Zena Bibler
After years of requests for longer trainings and opportunities to continue with the work begun in Nancy's intensive workshops (often co-taught with musician Mike Vargas), the time has finally come!
Thanks to Jo Bruhn (Germany) and Tatiana Musi (Mexico)—both from January Workshop 2016—for persevering and working with Nancy and Patrick Crowley (January Workshop coordinator) to realize this dream by providing crucial logistical research, engaging in extensive conversations with Nancy & Patrick, and collaboratively coming up with the current plan. Jo and Tatiana will continue to support the project as logistical and program coordinators for Phase II, the Long Dance.
We're all very excited and are happy to announce the January Workshop & Long Dance 2018!
We invite you to consider joining us.
Phase I
January "continuing" Workshop 2018
January 7–26, 2018
At Earthdance, western Massachusetts, MA, USA  www.earthdance.net
Nancy will be teaching full days, except on weekends, with Mike Vargas and other guests.
The January Workshop is a 3-week residential workshop specifically designed to develop our practice of Contact Improvisation (CI) and other related improvised dance work. The 2018 January Workshop is a "continuing" intensive and will not be an ordinary one as it will be for people who have already been exposed to the practices and perspectives of Nancy and Mike's work—i.e., people who have participated in other intensive workshops with them (anywhere in the world). We will refresh and go deeper into the material.
The January Workshop 2018 will include physical training, Contact Improvisation skills and practice, improvisation and composition scores, listening practice, jamming, observing, discussion, feedback, labs, contemplative practice, and performance studies. (Please note that this is not a purely CI workshop.)
We will further develop and integrate all the "pods," or centers of practice, that Nancy and Mike have been working with:
• Contact Improvisation (skills/techniques/principles, practice, theory/history, feedback, application, discussion, jamming)
• Solo dancing (solo physical training and improvising)
• Changing States/Elements (physical states, states of mind and emotion)
• Composition (noticing, studying, applying)
• Improvisation (various scores and areas of investigation)
• Performance (seeing/being seen, art)
• Underscore
• Contemplative practice
• Listening & relationships to sound and music
• And others: Articulation, Mystery, Human Skills
In addition, this January Workshop will lay the foundations for the continuing research in Phase II.
(A few spots may be available for "continuing" dancers who are only able to come to Phase I.)
Phase II
Long Dance 2018
Continuing group practice and self-directed research
January 30–February 21, 2018
Dragon's Egg Studio
Ledyard, Connecticut USA  www.dragonseggstudio.org
(Written by Jo Bruhn and Tatiana Musi, Phase II logistical and program coordinators, in conjunction with Nancy and Patrick Crowley.)
This phase is coordinated by Jo and Tatiana but it will be self-organized cooperatively by the whole group. We will live together and cook for ourselves at, or near, the studio. We will be located near Mystic, CT, which is less than 3 hours by train to New York City.
Nancy will come twice for a few days to work with us.
There will be time as a group to integrate and digest the work done with Nancy and others in the previous weeks. One of our main objectives for this phase is to cooperatively create a supportive structure that will enable us to continue a focused practice to develop the material further. How does the material apply to our present concerns, personal research, creativity, and communities? Time for personal projects, in groups or solo. Also creating space to connect CI with other practices that are important to you. Creating a deep playground to support each other's experiments. There will be jams, Underscores, performance, somatic explorations, and sharing nights, to name a few.
Only people in the January Workshop 2018 are eligible to do the Long Dance phase.
Through the Long Dance project, we hope to develop material that can nourish and grow our personal artistic practice and support the continuous process of redefining and shaping what CI and improvisational practice is for us.
We aim to create a structure where every individual research is welcome but also finding a way to co-exist with permeability, collaboration, and support of each other. We ask for a disposition to work as a group. We want to make it clear that this will not be an independent artist retreat, neither just a community experience. We will try to find a good balance between the individual and the collective that supports the self-organized time to continue working full time and in a focused manner.
Transition
The 4 days between January Workshop and the Long Dance are for transitioning from one place to another, resting, and having time to do whatever you want.
Housing, food, and transportation during this transition time is not included in the overall JW/LD18 fee.
One option for your transition is to stay at Earthdance: Housing and food will be available at Earthdance for these four days for those who wish to stay, on a per day cost basis.
Documentation
We would like to individually and collectively create documentation of our whole process, to share with the CI community and beyond. We encourage the documentation of this process in whatever manner is natural to you, be it with drawing, writing, photo, video, song, etc. to then articulate it all into one package that will include everyone's voice.
Who is eligible?
This January "continuing" Workshop 2018 is open for people with intermediate level experience with Contact Improvisation, who have participated in a previous intensive with Nancy (5 days or longer) or are planning to do one before September 2017.
The Long Dance extension is only open to people who are in the January Workshop 2018.
About "intermediate-level" experience in CI: Although levels in CI are difficult to assess, your CI practice should comfortably include: fluency with falling safely from any level, rolling, weight taking and giving, being upside down, dancing with disorientation, following a point of physical contact, working with subtlety (and exertion), and improvising in physical contact. Minimum of 4 years CI experience suggested.
Other background in dance and improvisation, a plus.
For this continuing January Workshop and Long Dance, we are looking for people who are particularly interested in the materials and approaches that Nancy and Mike offer and who want to deepen their study and practice of these, and related, subjects. They are self-motivated, responsible, collaboratively generous and generative, and are able to work positively and in a satisfying way (for themselves and others) with the conditions as they present themselves. Improvising!
We will be looking at:
• Contact Improvisation: level of proficiency and depth of one's practice, understanding, and inquiry about the form of Contact Improvisation.
• Improvisation/Composition: level of experience and current engagement with non-CI dance improvisation work and compositional study
• Self-guided research: clarity, motivation, and substance of your projects and special interests going into the Long Dance
• Commitment to group practice and process: a genuine engagement with, and pleasure in, the process of collaborating with the group on continuing dance practice and co-supporting individual projects—both in the continuing January Workshop and the Long Dance.
• Interest in all of the "pods" of practice: Although each individual will inevitably have greater interest in some than others, everyone should be committed to working with them all and integrating them (somehow) during the January workshop and in their self-directed projects.
• Ability to contribute positively and collaboratively to community living: self-responsibility for maintaining a positive and well-functioning living/working environment for self and all: cooking, cleaning, volunteering; in general, being aware, available, and responsive; being ready to initiate and/or follow, as needed.
Schedule, Language, Location
Schedule
January Workshop:
Monday–Friday, 10 am to 5:30/6 pm
There will be some early morning, evening, and weekend activities.
Workshop involvement is full-time—with the exception of some weekend time—so please don't expect to schedule other things during the workshop.
All participants must attend the workshop for the full 3 weeks and live at Earthdance (no commuting). This means you must arrive and depart within the established times (below); there are no exceptions.
Long Dance:
You will also be expected to participate full time—arriving and departing with the group. Daily schedule to be created by the group based on a preliminary framework.
Language
The workshop will be conducted in English. Fluency (understanding and speaking) in the English language required. Verbal exchange is an important part of the workshop!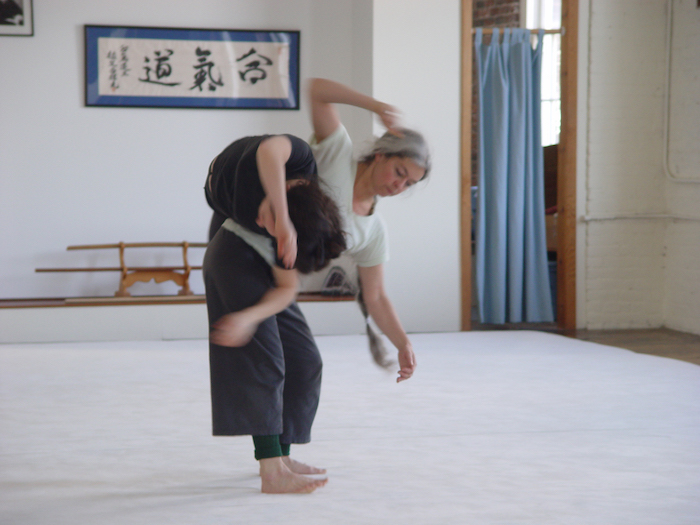 January Workshop 2004 at the dojo
photographer unknown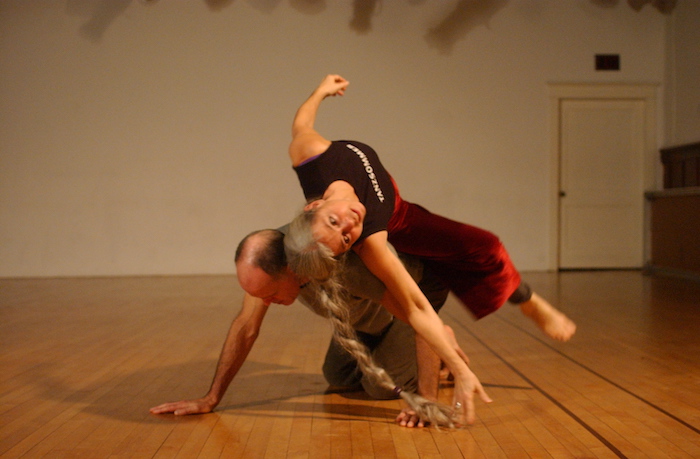 Nancy and Peter Bingham, Vancouver, B.C., 2005
photo © Chris Randle
Location
January Workshop will take place at Earthdance, a beautiful dance retreat center located in Plainfield, Massachusetts, 35 minutes west of Northampton, MA, in the Berkshire Mountains, with two dance barns and a wood-fired sauna. We will also practice at an Aikido dojo in Florence, MA.
Long Dance will take place at Dragon's Egg studio (with housing at or near the studio) in Ledyard, Connecticut, near Mystic, CT, which is less than 3 hours by train to NYC.
Accommodations:
At Earthdance: shared dorm rooms. Lunch and dinner are prepared (during weekdays) with delicious, fresh, hearty vegetarian fare. Breakfast and weekend meals are prepared by participants (with guidance). Cleaning done by participants (with guidance).
At Dragon's Egg: shared living accommodations at Dragon's Egg and at another nearby property. Food preparation, cooking, shopping, and cleaning done by participants.
All participants must be residential; no commuting.
Cost
$3,500–3,640 Sliding Scale* if application form and $290 deposit are received by September 8, 2017.
(Fee includes January Workshop tuition, Earthdance room/board, Long Dance tuition, Dragon's Egg room/board)
Add $50 to above fees if application and deposit are received after September 8, 2017
Plan on $200-300 extra costs (travel to and from Earthdance and Dragon's Egg, room/board during transition between Phase I and II, travel to and from dojo, special dinner, laundry, etc.)
Chores
January Workshop: 3.5 hours/week for 3 weeks of housework are required.
Long Dance: All chores divided by group (shop, prep, cook, clean).
Workstudy
A limited amount of workstudy is available.  There are 3 workstudy positions ($100 for 8.5 hours of work) done during Phase I at Earthdance. This is in addition to chore hours.
We are sorry to say that we do not have any extra workstudy for work done before or after the workshop. People who do the $100 workstudy will pay the full amount and be reimbursed for the workstudy at the end of the workshop.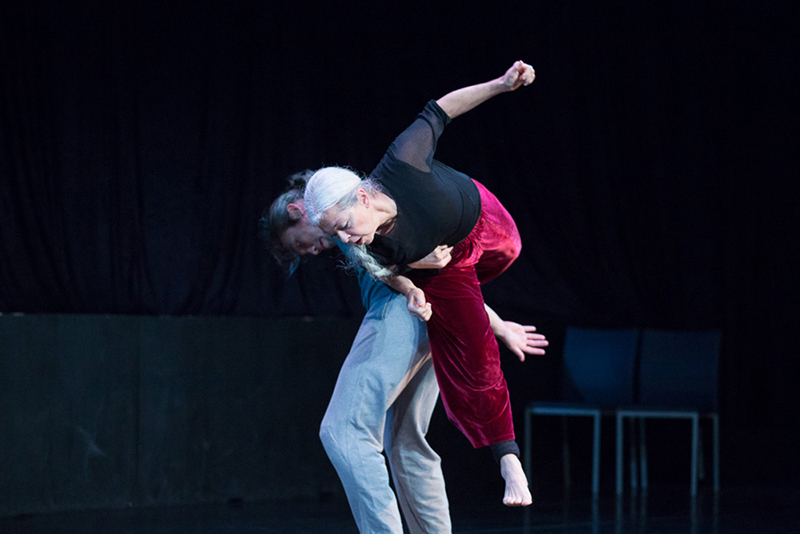 Nancy Stark Smith and Yeong Wen Lee, Taipei, Taiwan, 2013
photo © Ku & Dancers
We are aware of the financial challenge this project represents for some people. We encourage you to apply for external support. If needed, we can send you an invitation letter in order to apply for grants and scholarships (this does not guarantee you will be accepted). You might also consider Kickstarter or sending an email to friends, family, and colleagues requesting support for your continued dance development.
Phase I 
Arrival Sunday, January 7
Arrive to Earthdance: Sunday, January 7, 2:00–5:00 pm
Earthdance, 252 Prospect St, Plainfield, MA 01070 map
First evening includes:
5:00 pm Registration (everyone must do this)
6:00 pm Dinner
8:00 pm Dance Music jam w/ Mike Vargas (optional)
Phase I Arrival Deadlines in order to receive Earthdance pick-up from Airport/Bus station or to be on time:
4:00 pm Sunday is best if driving in your car.
3:00 pm Sunday from Northampton Bus Station.
2:00 pm Sunday from Bradley Airport (BDL) in Hartford, CT.
8:00 am Sunday (maybe better to arrive Saturday) from Logan Airport (BOS) in Boston, MA.
Saturday, Jan. 6 from LaGuardia Airport (LGA), JFK Airport (JFK), and Newark Airport (EWR) in New York, NY area.
(Please factor in that your plane may be late.)
You can arrive 1-2 days early (Jan. 5 or 6), if you make a request. We recommend that you make this request before you book your airline ticket.
Phase I 
Departure Friday, January 26
From Earthdance, 252 Prospect St, Plainfield, MA 01070 map
Phase I Departure Deadlines
Please do not plan to leave before 4:00 pm, Friday, January 26.
No rides will be provided before 4:30 pm (these will be arranged a few days before departure.)
You have the option to stay at Earthdance until January 30 for $35/night for Jan. 26 and $40/night for Jan. 27-30. Or you can go anywhere you want.
Contact Jo and Tatiana about your plans for the transition between Phase I and II: nsslongdance@gmail.com.
See Transportation below.
Phase II 
Arrival Monday, January 30:
Phase II Arrival Deadlines: 
Arrive to Dragon's Egg  3:00-5:00 pm, Tuesday, January 30
401 Shewville Rd, Ledyard CT 06339 map
Contact Jo and Tatiana about your travel plans during the transition: nsslongdance@gmail.com.
Phase II 
Departure Wednesday, February 21:
Dragon's Egg, 401 Shewville Rd, Ledyard CT 06339 map
Phase II Departure Deadlines:
Depart Dragon's Egg: Wednesday, February 21, 3:00 pm. Do not plan to leave Dragon's Egg before 3:00 pm.
No rides will be provided before 3:30 pm.
The earliest time your flight should depart: (If you want your flight to leave earlier, please confirm with us first.)
8:00 pm Wednesday, February 21 from Bradley Airport (BDL) in Hartford, CT.
Thursday, February 22 from LaGuardia Airport (LGA), JFK Airport (JFK), and Newark Airport (EWR) in New York, NY area; and from Logan Airport (BOS) in Boston, MA.
See Transportation below.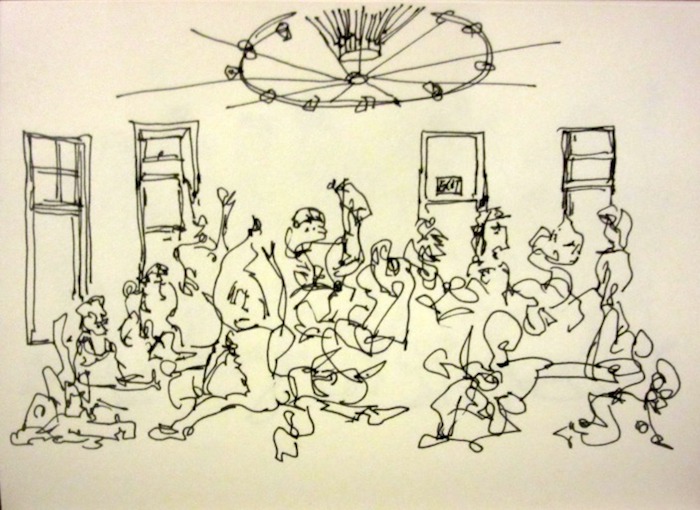 January Workshop 2016
drawing © yuenjie MARU
Phase I Arrival Transportation:
Sunday, January 7
Arrive to: Earthdance, 252 Prospect St, Plainfield, MA 01070
Driving Directions to Earthdance:
Please bring your car, if at all possible! Thank you!
Airports & Buses
Bradley Airport (BDL) in Hartford, CT
This is the best and closest airport: 1.5 hour ride from Earthdance
New York, NY airports
Boston Logan Airport (BOS) in Boston, MA
Peter Pan Bus leaves directly from Logan Airport (BOS) to Northampton: 4 hour bus trip
Buses from center of Boston to Northampton: 4 hour bus trip
Rides to Earthdance: Sunday, January 7
From Bradley Airport (BDL) to Earthdance: $80. Flight must arrive by 2:00 pm.
From Northampton to Earthdance: $35. You must be in Northampton by 3:00 pm. (Peter Pan Bus info)
See other Arrival Deadlines
As much as possible, ride costs will be shared by 2 or more participants ($5 for each additional passenger)
Commercial cab rides to Earthdance: from BDL ($101), from Northampton ($57).
Phase I-II Transition Transportation:

Friday, January 26-30
Phase II Departure Transportation:
Wednesday, February 21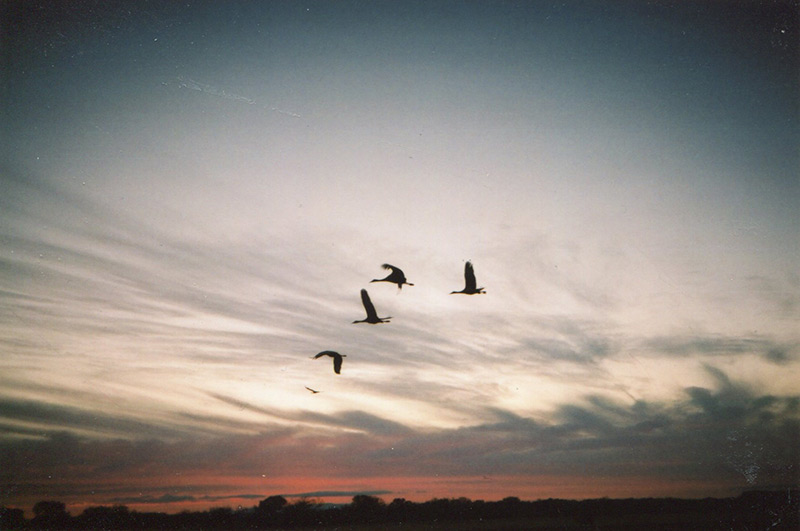 Sandhill cranes at dawn, Bosque del Apache, New Mexico, 2014
photo © Nancy Stark Smith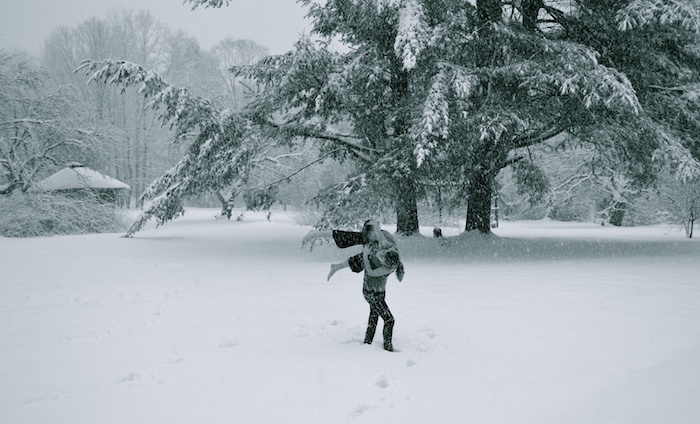 Spontaneous snow duet, January Workshop 2012
Earthdance, Plainfield, MA
photo © Emily Bowman
Winter in New England is beautiful! It can get very cold, icy, and snowy.
Average temps:  Low 17°F (-8°C); High 33°F (0°C).
If you are coming from far away (especially those who don't usually have cold winters), consider coming a few days early to acclimate to the time zone and weather.
Come prepared:
coat
sweaters
long sleeve shirts

house slippers!

hats
gloves
scarf/neck warmer
boots
Think of dressing in layers, both for inside and outside.
Please re-read the full text on this JW/LD 2018 page and then fill out the online application form: outlining your background and skill level in Contact Improvisation, dance, and improvisation; where/when you've worked with Nancy; your reasons for wanting to attend; and your 2 references.
Submit the application with your $290 deposit, online or via postal mail.
All applications must be approved by Nancy.
Limited space. 
Early Registration & Discount Deadline:
September 8, 2017
Generally by this date, the workshop has more applications than places, so please apply as early as possible (summer is best) for most favorable consideration.
Applications must be approved before final confirmation will be sent. An email with more detailed info will be sent on acceptance.
Deposit Payment of $290
(required with application)

Choose from 4 payment options:
(Deposit is non-refundable if you are accepted. If your application is not accepted or if you do not get in from the wait list, your deposit will be refunded minus a $50-80 service fee, depending on the amount of time spent with your application.)
1. Send Check
We accept a regular check, bank check, and money order in US funds drawn on US bank. Deposit: $290
Check payable to:
Contact Collaborations (Put in memo: January Workshop/Long Dance)
Send to:
January Workshop/Long Dance
c/o Contact Collaborations
PO Box 603
Northampton, MA 01061
USA
2. Bank of America transfer (no fee)
3. TransferWise (for International only)
TransferWise only works with certain currencies and when transferring from a bank account. Check here for your currency or try button below to determine if your currency is accepted.
Send $290 deposit (in USD) through TransferWise. (You have to change the amount to $290 on the TransferWise site). Send payments to januaryworkshop@nancystarksmith.com:

(Certain countries have laws that require more info to use TransferWise. If they ask for this info, please email us and we will send it to you.)
4. PayPal (only way to pay with credit card)

Fee for deposit payment using PayPal is $13 (total: $303)
Bewaren
Bewaren
Bewaren
Bewaren
Bewaren
Remaining Balance Payment by December 1, 2017
**TO MAKE PAYMENT: Please email Patrick which level of sliding scale you are paying and which payment method you want to use, and **he will email you an individual request for payment.
Only if accepted (after approval by Nancy)
Payment is non-refundable.
For USA (paying with bank account): Pay with check, Bank of America transfer (using mobile # or email) (no fees).
For Europe, Australia, and other countries (paying with bank account):
Use TransferWise (lowest fee). (Our organization name is Contact Collaborations.)
If international and cannot use TransferWise:
Use PayPal or Wire Transfer (add fee).
If paying with Credit Card – US or International:
You must use Paypal (add fee).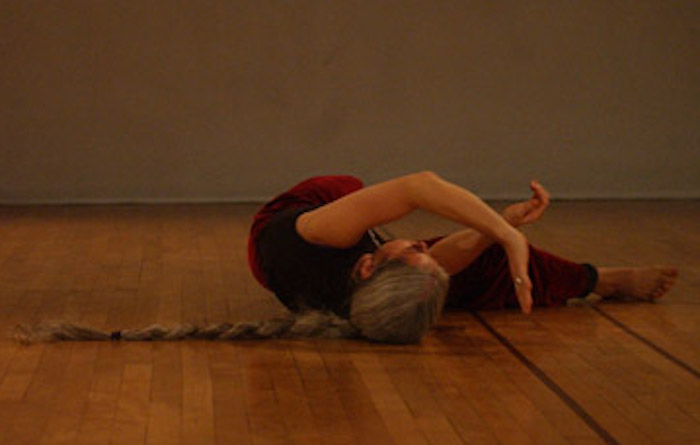 NSS solo roll, Vancouver, B.C., 2005
photo © Chris Randle